To make a machine for waste plastic recycle, you need to buy some basic materials. There are various types of plastic, and you will have to separate them. Once you've sorted the plastic, it's time to feed it into the shredding machine. Then, you'll have to wash the shredded plastic to remove the impurities. This is a very important step, as the shredded plastic will then be used to make different recycled products. Then, you can feed it into the shredding unit through a conveyor belt. After the plastic is shredded, the plastic pellets will be classified using various techniques. You can even turn the shredded plastic into filaments, which are then used for different types of recycled products.
A waste plastic recycling machine is an ideal tool for small towns to start their own plastic recycling business. It doesn't cost much and is easy to use. Most of the materials used in a plastic recycling machine are recyclable and can be used to create new goods. This way, you're not only helping the environment, but also giving local communities a financial incentive to recycle their plastic. The machine can be used for many applications, including dorm garbage cans, but the possibilities are endless.
The process of single-stream recycling is becoming more automated. Single-stream recycling requires that polymer types be separated before collection. Plastics like PET bottles are separated separately for recycling. Polyethylene is also used for rigid piping, electrical cable insulation, and vinyl records. Polyethylene is a moisture barrier. It can be recycled into the highest grade pellets. Using a waste plastic recycle machine makes the whole process more profitable and efficient.
Most of the plastic waste is made of thermosoftening polymers that can be melted and reformed into new items. This mechanical recycling method is the most common and has a low carbon footprint. However, this method is limited by the quality of the polymer. If you want to recycle waste plastic, you need to make sure that the process is as clean as possible. There are a number of different methods that can be used to recycle waste plastic.
Recycling plastics has become an important and popular way to reduce environmental impacts. It also reduces the amount of raw materials required for production and helps the environment. It is also a good way to save energy and reduce air pollution. Many countries are now collecting plastics as part of their efforts to reduce their carbon footprint. This is a great step forward. The recycling process can help save oil and reduce energy. The more you recycle, the less you have to buy, and the less you'll have to waste.
It's not just packaging that is a big source of waste plastics. Other sources include end-of-life vehicles and waste electronic equipment. Waste plastics have a much smaller unit weight, which is one reason why they're more easily recycled than other types of waste. The machine will process waste plastics in the most efficient way possible. This makes it an excellent way to help the environment while also making a profit.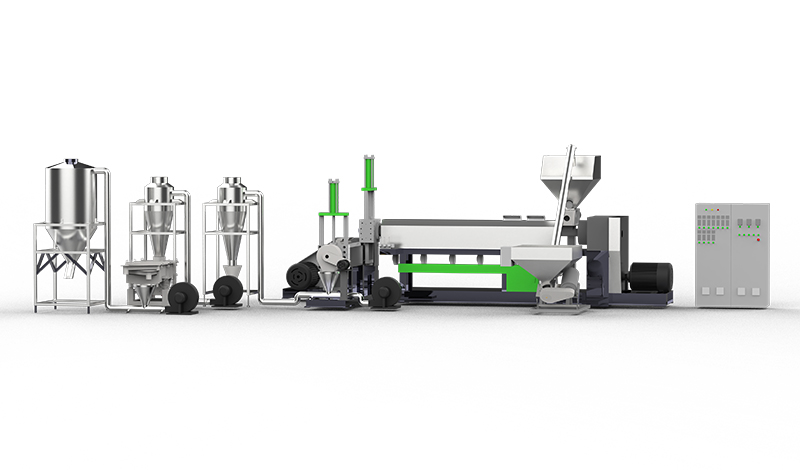 LDP PVC WIRE AND CABLE MATERIAL HOT CUTTING GRANULATOR
Product Details
Model Screw dia.(mm) Long dia. ratio Output(kg/h) Power(kw) Rotate speed(r/min)
LDP-SJP-90-120 Φ90、Φ120 28:1、10:1 150-250 30/18.5 10-75
LDP-SJP-120-150 Φ120、Φ150 28:1、10:1 250-350 45/30 10-75
LDP-SJP-130-160 Φ130、Φ160 28:1、10:1 350-450 55/37 10-75
LDP-SJP-150-180
Φ150、Φ180
28:1、10:1 450-550 110/55 10-75
Yuyao Lvdao Plastic and Rubber Machinery Co., Ltd is well known LDP PVC Wire And Cable Material Hot Cutting Granulator manufacturers and industrial LDP PVC Wire And Cable Material Hot Cutting Granulator suppliers in China. We can make the products following the customers' requirements,like the shape,size,color,logo and other spec details. According to the different characteristics of various plastic materials to develop a batch of new products, maximize to meet the needs of customers.