Failure Phenomenon
4 There is dirt in the extruded product
Cause
1 There is dirt in the material
2 Excessive carbon deposits on the extruder screw
Approach
1 Replace material
2 To clean the screw, the lighter can be directly squeezed out and cleaned with screw cleaner, and the heavy one can be disassembled and cleaned manually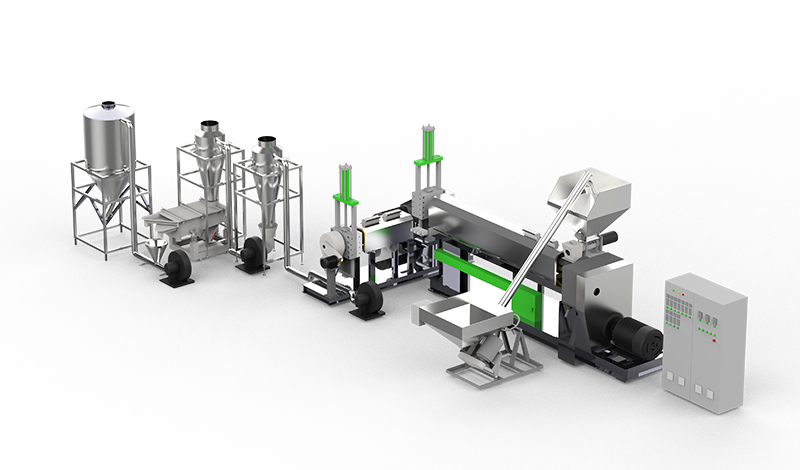 Failure Phenomenon
5 The main motor power supply of the extruder is large
Cause
1 A certain section of the heater does not work, and the torque is unstable.
2 The main motor bearing is poorly lubricated or damaged, and the vibration is large.
Approach
1 Check whether the heaters of each section are damaged, if so, whether the wiring of the replacement heater is correct or firm
2 Check the motor bearing, add lubricating oil or replace the bearing
Failure Phenomenon
6 The extrusion material is unstable
Cause
1 Bridging the raw material feeding port;
2 The rotation speed of the main motor is uneven and fluctuates;
3 The heating and cooling system is not well matched or the thermocouple error is too large.
Approach
1 Clear the bridging of the discharge opening of the hopper
2 Check the main motor and control system
3 Adjust the heating power, check the contact and installation of the thermocouple, whether the thermocouple is damaged, and replace the thermocouple if necessary
Failure Phenomenon
7 The machine head discharge is unstable or blocked
Cause
1 Poor plasticization of materials
2 A certain section of the heater does not work or the molecular weight distribution of the plastic is wide
3 The operating temperature setting is low and unstable
4.Foreign objects that may not easily melt
Approach
1 Replace and check the heater if necessary
2 Negotiate with the craftsman if necessary
3Verify the set temperature of each section and increase the temperature set value
4 Clean and check the extrusion system and the head